Sadie's success story – from panic to playful
Sadie is a 3-year-old female German Shepherd who lives with her owner in a nice neighborhood in the Hill Country of Texas. In late 2021, Sadie was severely startled by a loud truck rounding the corner as she was on her daily walk.   Sadie is fearful of fireworks and thunderstorms, so this loud truck startled Sadie intensely. She jerked the leash out of her owner's hand and darted home. From that day forward, Sadie would startle by any noise outside. It was difficult to coax her outside in the fenced-in yard for elimination. Forget getting her into a vehicle to go to a park or somewhere quiet for exercise. She would not go near her owner's vehicle, even parked in the garage with the doors just sitting open.
Sadie's intense startle from the construction truck created a deep emotional memory for her. The combination of her fear of loud noises with the large truck rumbling past created a state of panic. The intense fear became embedded in her memory about everything outside of the home. Now, any sound she heard would cause her to pace, pant, and avoid the front room. Day-to-day life was difficult for Sadie.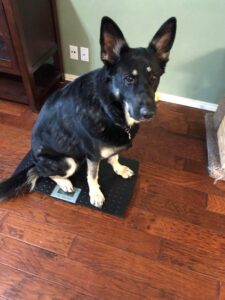 Her owner contacted me as suggested by his behaviorist. Sadie needed medication and a specific behavior plan to decrease her panic response to day-to-day noises. During the first consultation, I watched Sadie barely step out of the house to go into the fenced backyard. No treats or toys could persuade her. This is how intensely her memory of the truck noise on the street was affecting her perception of the outdoors.
I immediately contacted her primary care veterinarian to discuss the medications that would help decrease Sadie's anxiety. Dr. Macious at  Hill Country Animal Hospital  and I discussed Sadie's behavior,  the intensity of her memory, and what medications would be best to decrease both the anxiety and the panic response. Dr. Macious prescribed the medications and was updated over the next months as  Sadie worked through her behavior plan. Sadie was able to improve her ability to relax in the home, go outside for play in the backyard, and take play breaks in a green space away from the street side of the neighborhood. The sticking point for Sadie was getting her to like getting into a vehicle and the first steps to riding to a destination. Sadie had improved to the point where she would take treats around the truck and even put her paws in once or twice, but she would not get in. Sadie is a 95-pound dog – you cannot easily pick her up and load her into a car. Her owner was very concerned that Sadie needed veterinary care; how was he going to get her into a vehicle and travel safely to a veterinary clinic?
 How to get Sadie to travel to the veterinary clinic
I agreed – Sadie needed an oral sedation cocktail for travel. Her memory of vehicles and noise shifted her up to panic, blocking her ability to desensitize to the vehicle and first steps to travel. I contacted Dr. Macious, and we discussed what Sadie's past behavior was like for veterinary care and the best areas for an exam at the clinic. She was never aggressive and mildly nervous but would take rewards. The veterinary clinic itself was not anxiety-producing for Sadie. It was all about the travel.   I advised Dr. Macious to add a combination of Alprazolam with Acepromazine to the daily gabapentin and Clonidine dose that Sadie was receiving. My advice was to have Sadie " too drunk to remember how much she was afraid of riding in the truck, the sound of traffic, and arrival in a parking lot"  to set a new memory. Dr. Macious prescribed multiple doses of the added travel cocktail, anticipating that Sadie may need a couple of trials before she may be able to arrive at the clinic calmly. My expectation was that with the total travel and medication plan, Sadie would arrive calm and be able to have a basic exam. The client sent me a video of the various routes to the clinic and how he would put paper up in the rear windows to block her view and limit her ability to pace in the vehicle. The clinic scheduled her for an 8 am exam – before other animals arrived, with a quiet parking lot and clinic. They covered the exam table, used the side door away from traffic, kept their voices quiet, and used her favorite foods to reward her for every step of the process, with the plan to stop if she rose to the level of pacing on the Canine Ladder of Panic . No expectations were set for what would be accomplished that day.
The result? Sadie jumped into the truck with her additional medications on board. She was not sedate, which frankly surprised me.   But she had enough of the sedation effect from the Acepromazine with the panic escalation control from the Alprazolam to enable her to function. She jumped into the truck, stayed in the back, and rode to the clinic calmly. She showed a slight amount of nervousness at first, but she took her food rewards in the truck and at the clinic. I would not expect her to be free of all anxiety. Her anxiety level stayed low enough for her to take the rewards, which counter conditions her to the vehicle ride - now it is rewarding rather than scary. The staff followed the steps we outlined together – greeting Sadie outside with some treats and taking her into the side door to the first exam room with limited staff. The area was kept quiet -not a lot of loud voices or verbal praising. The result? As you can see in this video (link), Sadie took treats in the prepped exam room (covered table, floor exam) and was calm for a full exam, blood draw, and weight check. Sadie was startled a bit by road noise during the exam but recovered quickly. This is an excellent mental improvement for Sadie! I appreciated the doctor making sure I knew this. The doctor was also helpful by having white noise on her phone to block out road noise from the exam room. Later that day, Scott sent me photos and videos of Sadie playing with her ball and having a great day. She did not have lingering sedation or any ill effects.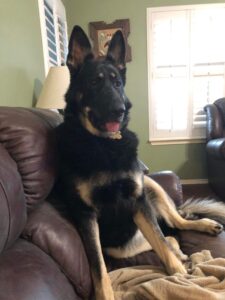 Take a look at the video of Sadie's process for a successful Low-Stress Veterinary exam here Click here to see video
The takeaway from Sadie's success
In one visit, Sadie has the full medication, travel, and exam plan for veterinary care. This same medication mix will be used to start Sadie's travel to her old daycare- boarding facility. As Sadie builds her foundation of calm travel and arrival, the medications can be decreased over time. The other aspects of routes, entry, and vehicle preparation will stay in place as she builds up the ability to travel without additional medications.
What I found so amazing about Sadie's story is the collaboration between the owner, myself, the local behaviorist, and the veterinary team. Through this collaboration, Sadie was able to receive full veterinary care in one visit – far exceeding the expectations of the owner and behaviorist. Dr. Macious and her team understand her calm arrival would be the foundation for a calm exam, which they would support through Low-Stress handling, clinic setup, and scheduling.    Communication between all parties was important to have the plan work. This was not complicated – it requires clear, specific steps for all to follow with feedback on the results.
The client was a large part of Sadie's success.   While not all pets need as much intervention as Sadie, many owners will follow the preparation steps needed for a calm arrival to set the foundation for a Low-Stress exam. What owners need is specific advice for how to travel, how to wear a muzzle, when the best appointment time is for the pet, and set realistic expectations for care. There has been a strong emphasis on medications to facilitate Low-Stress veterinary care, but not the total plan nor how to advise our clients. Use the low-stress veterinary care exam form (link), and the videos on my YouTube channel (link) to help your clients be a part of the care equation.
Next steps for Sadie – Sunday drives!
A few days after Sadie's vet exam, we discussed the next steps for Sadie to build on her success. Her owner needs to visit family, so using her travel plan to go to her old daycare/ boarding facility that she liked is the goal. Using the same medication plan, with the same prep of the vehicle, her owner will take Sunday drives when the boarding facility is closed to practice calm rides and arrival. I have spoken with the staff at the daycare about meeting Sadie at a side door, taking her in when it is quiet, and trying a few hours at a time for stays. The staff is excited to do these extra steps for Sadie. They want to be a part of her success. Again, the owner will provide me with videos of the daycare property and space, and I will be in communication with the daycare staff to ensure that Sadie's visits are building on her success.
Other Sunday drives may be to a park or a fun place for Sadie to visit, then back home. The point is to use quiet days and routes to build on her memory of calm rides in the car.
Do you need help with your patients for calm arrival and care?
If you have cases of feline or canine patients who are difficult to examine, and the medication plans you have used are not providing a calm arrival, please contact me for a vet-vet consultation to give you the outline of the arrival and Low-Stress Care plan for your client including medication cocktail advice. Typical Vet-vet consultations are 15 minutes, so it will not take too much time, and you will receive a report to put in your client records. Email support for the consultation is included in the fee. You can contact me directly through my email dr.sally@mchsi.com or schedule through the Stratocyte platform ( link); you can find me under the other category.
Thanks and keep it Low-Stress!
Sally J Foote DVM, CABC-IAABC, LSHC-S, FFE